First Ismaili Electronic Library and Database - Welcome to the First web site dedicated to H.H. The Aga Khan and Ismailism.



Last Updated on July 18, 2018 at 22:45 EST



____________________________________________





2018-07-11 - Lisbon: President Marcelo Rebelo de Sousa of Portugal welcomed in Darbar


2018, July 11: H.H. The Aga Khan, Mowlana Shah Karim, welcomed the President of Portugal at the Darbar. The President replied to the welcome Farman read by Mowlana Hazar Imam and told the Jamat in his presence, the following: (see this and other related video in this link)
FORTHCOMING


March 29 - 31st, 2019 in Lisbon - AGA KHAN MUSIC AWARDS [More info!]


ISMAILI ANDROID APPS


RECENT NEWS
2018, July 11 Lisbon, Portugal - H.H. The Aga Khan, Mowlana Hazar Imam celebrated the end of his Diamond Jubilee Year with the World Jamat. During one of the 4 Didar during the day, he brough a surprise guest: he said an unexpected blessing! The President of Portugal was welcomed by thunderous applauses and MOwla's speech as well as the President Speech created an unforgetable lifelong souvenir. Many Murids wrote a testimony of their recollection which you can [read here!]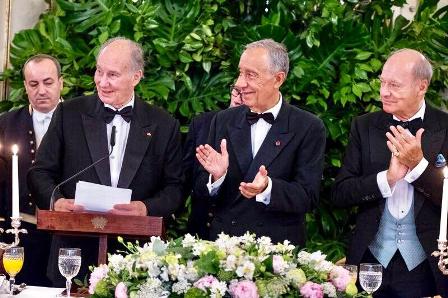 2018, June 10: Mawlana Hazar Imam made a historic address to the Portuguese Parliament on Tuesday, 10 July 2018 at 11:45 am Lisbon time. He came to the Parliament accompanied by his family. In his speech he said "Through the centuries, the Seat of the Ismaili Imamat has been formally designated in one or more locations by the Imam-of-the-Time, depending on the requirements of the day. It has known many homes over the years - throughout the Arabian Peninsula, in the Middle East, in South Asia, and in North Africa. It moved to Cairo in the tenth century, when my ancestors founded that city." [Read Speech here.]

2018, July 9: Lisbon, Portugal. Jubilee Jubilation! Eight Members of the Noorani Family came to the Diamond Jubilee Celebrations this day and visited the Rays of Light Exhibition as well as the International Art Exhibition before attending part of the Talent Show with the Jamat. Prince Amyn Aga Khan was accompanied by Prince Rahim, Princess Salwa and their 2 kids: Prince Sinan and Prince Irfan. Princess Zahra was accompagnied by her 2 kids, Prince Ilyan and Princess Sarah. [MOre Videos and Photos will be added here!]

2018, July 9th: Mowlana Hazar Imam meet the President of Portugal at 11:30am A Guard of Honour by the Military and attended a Diner with the President at night accompanied by his family. Activities during the day include a Press Conference and Lunch with the Prime Minister, accompagnied by Prince Amyn. [See info]] [More] [Complete Itininerary]

2018, July 8: Prince Hussain and Prince Aly Muhammad Aga Khan at the Vasco de Gama Mall in Lisbon, Portugal. The Mall contains several movie theaters and one of them hosted the Diamond Jubilee Film Festival. Opposite to the Mall was the venue of the Diamond Jubilee Celebration were both brothers went to visit the Jubile Art Exhibition and where they attended part of the International Talent Show. [More here!]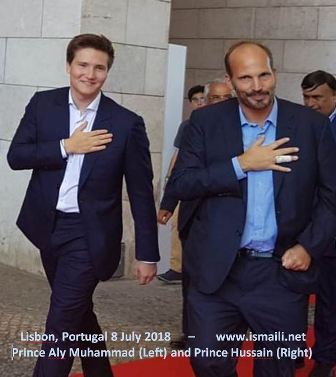 2018, July 8 - Lisbon, Portugal. Mowlana Hazar Imam arrived in Lisbon for Diamond Jubilee Celebrations on 6th of July 2018. Prince Amyn, Prince Hussain and Prince Aly Muhammad also landed in Lisbon. Other members of the Noorani Family are "expected" to join in the Presidential Dinner on 9th July 2018. Prince Hussain and Prince Aly Muhammad seen here at the Portuguese Pavilion coming our of the Exhibition and attending the part of the Talent Show.

2018, July 8: Prince Hussain and Prince Aly Muhammad Aga Khan at the Vasco de Gama Mall in Lisbon, Portugal. The Mall contains several movie theaters and one of them hosted the Diamond Jubilee Film Festival. Opposite to the Mall was the venue of the Diamond Jubilee Celebration were both brothers went to visit the Jubile Art Exhibition and where they attended part of the International Talent Show. [More here!]

2018,July 7th and 8th: Mowlana Hazar Imam performed various religious ceremonies for his Jamat under the jurisdiction of the Portugal Council. VIDEO: 2018, July 7th - H.H. The Aga Khan coming out of Centro de Congressos de Lisboa and waving to the crowd outside. [More!]

2018, July 6: DIAMOND JUBILEE - LISBON CELEBRATION! H.H. The Aga Khan landed this day in Lisbon. The Jamat welcomed him when his motorcade passed near the Jardim Amalia Rodrigues at a very slow speed. Mowlana Hazar Imam rolled down the window of the car and waved to the Jamat [More news here!]

July 5-11, 2018 - LISBON DARBAR [more info!][ Detailled Itinerary of H.H. The Aga Khan in Lisbon]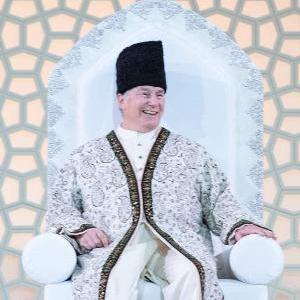 2018, JUNE 29 - LONDON, UK - TESTIMONIES FROM LONDON DARBAR - "What a beautiful, happy & peaceful deedar. Hazir Imam arrived early to the venue. MHI offered his khanavadhan and blessings to the global jamat, for murids everywhere, & to the individuals in the hall, for happiness and for mushkil asaan. He prayed that your difficulties may be resolved with equity. Equitable resolutions, equitable resolutions, he said. Is it realistic? At this point he looked at the jamat with a smile on his face & tilted his head & paused, & spread his hands wide, the jamat laughed & we understood the meaning." (Photo: the.ismaili) [MORE TESTIMONIES!] [More here] [Complete Itininerary]

2018, June 29 Edmonton, Canada: Visitors will be able to experience The Aga Khan Garden, Alberta (AKGA). The AKGA is a spectacular contemporary garden inspired by traditional Islamic design, with water features, intricate stonework and geometric patterning. This beautiful feature is the result of a $25 million gift from His Highness the Aga Khan. [More:]

2018, JUNE 27 - LONDON, UK - "Our partnership with the Ismaili Imamat has had a positive impact on livelihoods and living conditions in some of the poorest and most isolated parts of the world." – British PM Theresa May, hosted His Highness the Aga Khan at Downing Street. [More here]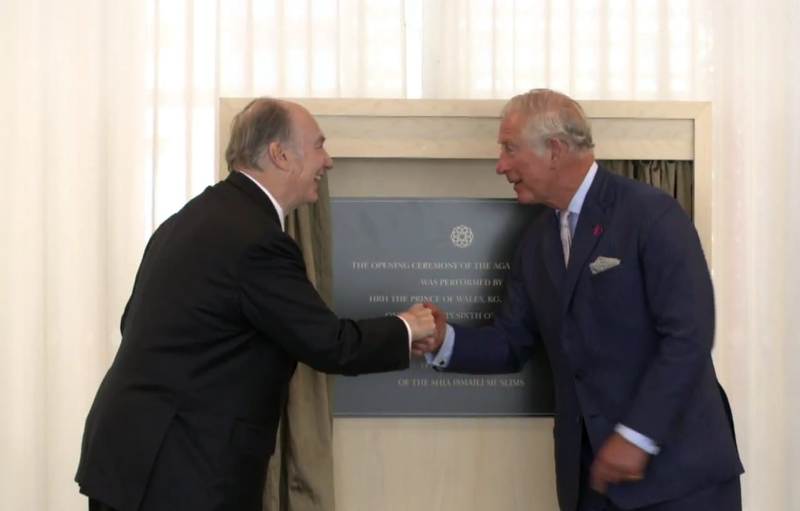 2018, June 26 - Aga Khan Centre has been inaugurated at London's Kings Cross by HRH The Prince of Wales, in the presence of His Highness the Aga Khan this 26 June 2018 - - The opening was attended by members of the Noorani family, Prince Charles, the Mayor of London and many other dignitaries. [More PHOTOS and VIDEOS here here]

2018, June 26 Aga Khan Centre to be opened at London's Kings Cross by HRH The Prince of Wales, in the presence of His Highness the Aga Khan - Ceremony, to commence 1:45pm BST, will be live streamed. [More here!]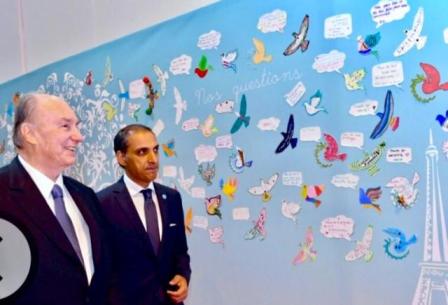 2018, June 23: Mowlana Hazar Imam gave special blessings to all the children for all their drawings that were pinned outside, he said it gives him immense happiness and that he saw them and read them. Link for Testimonies of Paris Darbar: [Click here!] [More photos]

2018, June 23 H.H. The Aga Khan, Mowlana Hazar Imam Shah Karim attends Paris Diamond Jubilee Darbar! More info here!

2018, June 17: Prince Aly Muhammad attends World Partnership Walk this Sunday in Toronto [Video of Arrival] [News, Photos and Speech]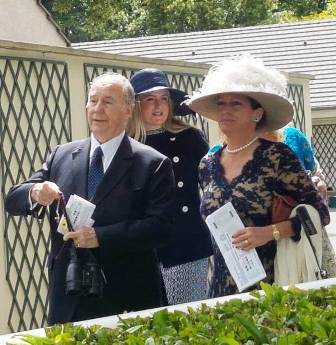 2018-06-17 in Paris at Chantilly, H.H. The Aga Khan , Princess Zahra and her daughter Sarah, attend classic horse race of the Prix de Diane Longines (French Oaks, G1). [More]

8th June 2018 - The Sun, UK - Sofia Petkar writes "THE Aga Khan is one of the world's most generous philanthropists and the spiritual leader of more than 15 million Ismaili Muslims worldwide. He has spent the last 60 years beautifully bridging gaps between communities, ensuring his legacy breaks boundaries between religions, cultures and societies. But just who is he and why is this such a special year for him? [Read more here!]

2018, June 2nd Epson Derby in UK - H.H. The Aga Khan's horse Hazapour in the Investec Derby at Epsom on Saturday. Mowlana Hazar Imam came by helicopter and was accompanied by Princess Zahra. [VIDEO HERE!]

2018, May 18: Prince Amyn Aga Khan landed in Toronto at 5:00pm to attend the Architecture Pritzker Award ceremony at the Aga Khan Museum on Friday night and to attend meetings. Here his plane arriving on the tarmac of Toronto airport. [More here]

2018, May 4: H.H. The Aga Khan arrived in Vancouver where he was welcomed by Shortly after his arrival, Mawlana Hazar Imam met with the Honourable John Horgan, Premier of British Columbia and other dignitaries. In a statement to the North Shore News, Rev. J. Michael Miller, the Archbishop of Vancouver said the Aga Khan's philanthropy demonstrates to the world that religious convictions have a vital role to play in secular society. "The Aga Khan's decades of work in fighting poverty, encouraging peace, and promoting education and religious understanding offer a much needed witness to common belief in loving God and our neighbour," said the archbishop. (Photo: The.Ismaili) [For more News: Click here! ]

2018, May 1st to 4rth: Canada congratulates His Highness the Aga Khan, on his Diamond Jubilee. in Ottawa from May 1 to 4, 2018, His Highness will attend a dinner at Rideau Hall, the official residence of the Governor General on Thursday 3rd. The Aga Khan will then continue his visit to Western Canada - including Vancouver and Calgary. [Ottawa, Calgary and Vancouver News here!]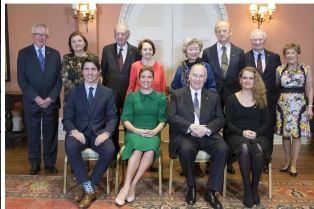 2018, May 5 to 11th: H.H. The Aga Khan will soon give Didar to his followers in Vancouver on May 5, 6 and 7. BC Place. Jamati work for the Edmonton and Prairies Jamats together will be conducted in Calgary on May 9, 10 and 11 at the BMO Centre, Stampede Park. While in Ottawa from May 1 to 4, 2018, His Highness will attend a dinner at Rideau Hall, the official residence of the Governor General. [Didar news here here!] [Newspapers' articles here!]

2018, May 2nd This evening, The Right Honorable Julie Payette, Governor General of Canada hosted a dinner to celebrate the Diamond Jubilee of H.H. The Aga Khan. Beside him, only the Queen of UK who is also the Queen of Canada has celebrated her Diamond Jubilee. Princess Zahra accompanied Mowlana Hazar Imam to the dinner where several other dignitaries were invited. The Prime Minister of Canada Justin Trudeau, Ex Governor General, Adrienne Clarkson and many more.

April 16, 2018 - Prince Amyn lands in Kenya for Serena and other AKDN work.

April 17 to 20, 2018 - Princess Zahra will be visiting Pakistan. The visit will be dedicated to AKDN projects and poverty alleviation. [more info!]

2018, April 13th and 14th, Princess Zahra Aga Khan and Trustees Visit UCA: The Board of Trustees of UCA visited Naryn and Bishkek, Kyrgyzstan in their first official visit to UCA since their appointment to the Board of Trustees in November 2017. [More]

13 APRIL 2018 - H.H. The Aga Khan has arrived in Nairobi, Kenya on 12th of April. On 13th, H.H. The Aga Khan was at the State House in talks with Kenya President Uhuru Kenyatta. President Uhuru Kenyatta on Friday met with his Highness the Aga Khan and discussed a project that will be implemented at Nairobi's City Park. Speaking at State House on Friday, Uhuru stated that the initiative was geared towards enhancing the quality of life of Nairobi residents. According to a statement released by State House spokesperson Manoah Esipisu the project is set to restore Nairobi City Park to its past glory as the "Green Jewel ofNairobi". The Imam of the Ismailis gave Darbar on Saturday 14th April to his Murids from Kenya, South Africa, Burundi, Rwanda, Madagascar and Congo. [News] [Anecdoctes and Testimonies]

2018, March 18 - H.H. The Aga Khan arrived in Houston to meet his community in a Diamond Jubilee visit which will see the Imam spent Navroz with his Jamat in Houston on 21st March [More]

2018, March 13: USA VISIT: H.H. The Aga Khan arrived in Atlanta around 6pm this Tuesday and will meet his Community in Atlanta beginning 14th and end his trip in Houston on 22nd March 2018. He will celebrate Navroz with his Jamat in Houston. More news and exact dates and times of ceremonies here: USA VISIT (UPDATED INFO)

2018, March 12 - 7:30pm: Prince Amyn addressed a private gathering on invitation only at an exclusive reception celebrating the "World of the Fatimids" Exhibition at the Aga Khan Museum. [More video and photo here!]


2018, March 8 - The Aga Khan was joined by Princess Salwa Aga Khan and Princess Zahra Aga Khan, the eldest child of Aga Khan IV, Prince Hussain and Prince Aly Muhammad. Prince Charles and the Duchess of Cornwall also joined in the celebrations at Windsor Castle. Aga Khan is a title used also as a name by the Imam of the Nizari Ismailis. The current user of the name is the 49th Imam, Prince Shah Karim Al Husseini Aga Khan IV. [More here!]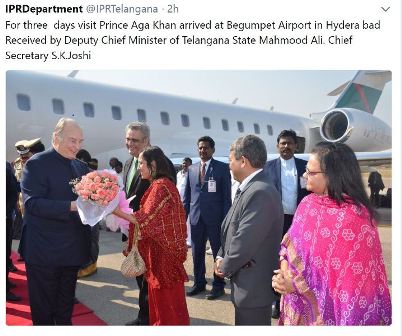 2018, February 26: 1310 hrs Emplane for Hyderabad - 1440 hrs - Arrive Rajiv Gandhi International Airport - Tuesday, February 27, 2018 - 1130 hrs Meeting with Shri Mohammed Mahmood Ali, Deputy Chief Minister of Telangana - Venue: Hotel Taj Falaknuma Palace - Programme in Hyderabad - Wednesday, February 28, 2018 1315 hrs Emplane for Mumbai 1425 Arrive Mumbai Venue: Chhatrapati Shivaji International Airport - Thursday, March 01, 2018 1000 hrs - Meeting with Shri Devendra Fadnavis, Chief Minister of Maharashtra - 1055 hrs - Meeting with Shri Chennamaneni Vidyasagar Rao, Governor of Maharashtra - Venue: Arrive Raj Bhawan - Programme in Maharashtra - 1800 hrs Emplane - [Click for Didar news here] [Click here for newspapers coverage]

February 21, 2018 - Programme of H.H. The Aga Khan in India: 1230 hrs Meeting with the Vice President. Venue: Hyderabad House - 1615 hrs Opening of Sunder Nursery. Venue: Hazrat Nizamuddin, Near Humanyu's Tomb - 1830 hrs Meeting with the Prime Minister. Venue: 7, Lok Kalyan Marg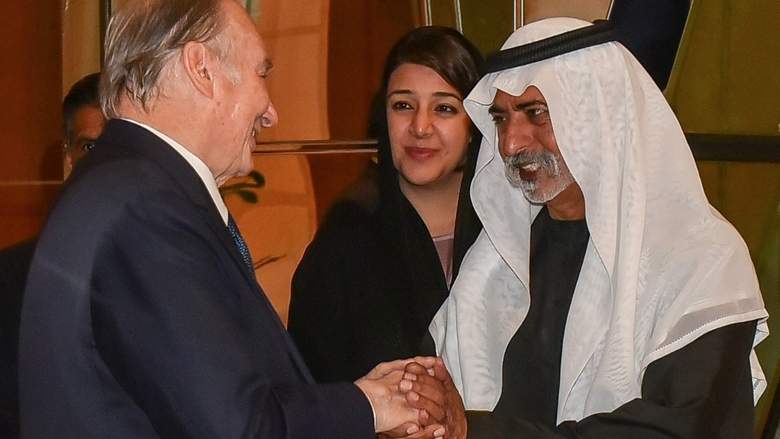 2018, January 22 - Dubai, UAE, His Highness the Aga Khan was welcomed by His Excellency Sheikh Nahayan. Mabarak Al Nahayan The Vice President, Prime Minister and Ruler of Dubai, His Highness Sheikh Mohammed bin Rashid Al Maktoum, received Mawlana Hazar Imam today at the Zabeel Palace on the occasion of his Diamond Jubilee visit to the United Arab Emirates. The meeting was an opportunity for both parties to discuss increased cooperation in areas of common interest as well as to review the longstanding collaboration that emphasises shared values of diversity and pluralism, cross-cultural exchange, and global development. Mawlana Hazar Imam commended the UAE's efforts towards disadvantaged areas and underprivileged societies in many countries of the world, especially in Africa and Asia. Hazar Imam also expressed his appreciation to Sheikh Mohammed for the support extended to the Ismaili community and praised the UAE for being an example of coexistence and harmony, as well as social and economic stability. [Read more news here:] [More on Didar!]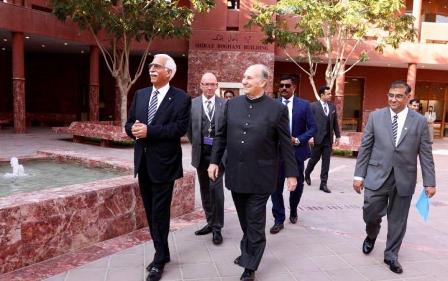 2017, December 15th - The Aga Khan University's Centre for Innovation in Medical Education (CIME), a state-of-the-art facility for technology-based learning for health professionals, was inaugurated today by His Highness the Aga Khan, Chancellor of AKU. The 80,000-square foot, Rs. 1.6 billion ($15 million), donor-funded Centre comprises three buildings – the Mariyam Bashir Dawood Building, the Ibn Sina Building and the Shiraz Boghani Building. The Centre offers multi-purpose teaching spaces, high-fidelity simulators, and specialty environments such as the phantom-head dental lab, a cardiac catheterisation lab and telemedicine clinics. [More]

2017, December 14th - KARACHI: The spiritual leader of Shia Imami Ismaili community Prince Karim Aga Khan arrived in the city on Thursday and was received at the airport by both the Sindh Governor Mohammad Zubair and Chief Minister Syed Murad Ali Shah. [More]

2017, December 12 and 14th - H.H. The Aga Khan will be meeting with this community for religious work in Islamabad before traveling to Karachi. On 13th, Mowlana Hazar Imam will be celebrating his 81st Birthday.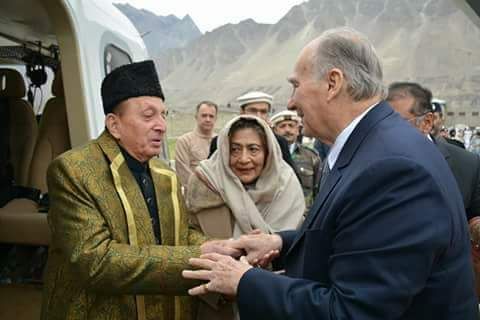 2017, December 10 - AliabadH.H. The Aga Khan continues his tour to meet his community - Today Mowlana Hazar Imam gave two didars: one in Taus, Yasin District and other in Aliabad, Hunza. about 140 000 Murids were expected in Taus. [More here]

2017, December 09 DIDAR MUBARAK! BOONI: The Aga Khan blessed his followers with Darbar and Didar today at Booni Chitral. According to ChitralToday In his Darbar speech at Booni, the Aga Khan stressed his followers to live "within the ethics of Islam" and to remain "honest" in their day today affairs. He also emphasized unity among "families" and to "educate" the young generation in an effective way. By terming education a "lifelong learning process", he stressed on acquiring education as a continuous and ongoing process. [More here! ]

2017, December 9: Prince Karim Aga Khan, the spiritual leader of the Shia Ismaili Muslims, will visit Gilgit-Baltistan today (Saturday). He is on a 13-day visit to Pakistan on the invitation of the Government of Pakistan. He will meet his followers on December 9 in Chitral and December 10 in Gilgit-Baltistan, after which he will visit Karachi from December 14 to 19. Prince Karaim Agha Khan will reach Gilgit on today from where he will fly to Chitral to meet thousands of his followers. To see a glimpse of their Imam, thousands of Ismailis will gather in Chitral, Ghizar and Aliabad, Hunza. News, dates, updates, LIF anouncements, timetables, More here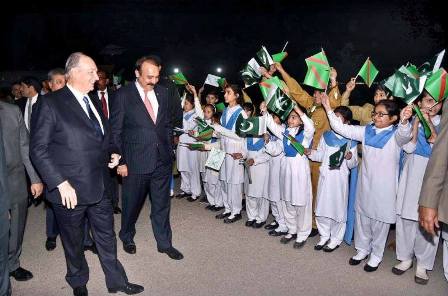 2017, December 7 - Mubarak! H.H. The Aga Khan arrived in Pakistan. Mowlana Hazar Imam was welcomed at the Islamabad airport by Foreign Minister Khawaja Asif and other government dignitaries on arrival. The Imam of the Ismailis is on official visit, invited by President Mamnoon Hussain and will be meeting his community in Gilgit Baltistan, Chitral, Islamabad and Karachi as part of his Diamond Jubilee. (Photo from Pamir Times) Updates here!]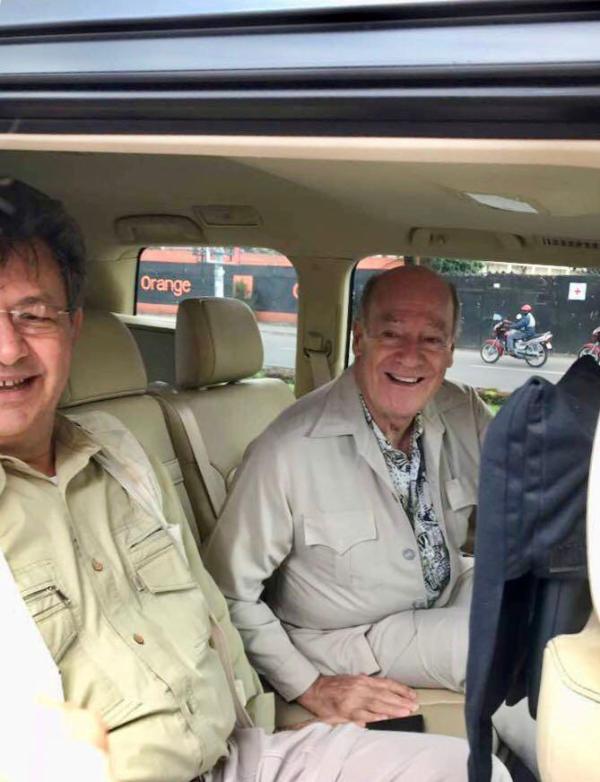 2017, November 29: Prince Amyn arrived in Goma for an AKDN related visit. An agreement of April 2017 provides for AKDN and its partners to invest US$140m and mobilise project funding of US$1bn for new power projects including the 147MW Ruzizi III project in the Great Lakes region (Rwanda, Burundi and the DRC). The Ruzizi project is expected to double Burundi's current capacity, increase Rwanda's capacity by 26% and provide much needed baseload power in Eastern DRC a region that is otherwise isolated from DRC's interconnected grid. It will also reduce reliance on thermal (fossil fuel based) generation in these countries. Besides developing regional and national power projects, both IPS and CDC intend to partner on mini and off-grid projects that will directly provide reliable and affordable electricity to rural populations away from regional and national grids. [More news and photos here!]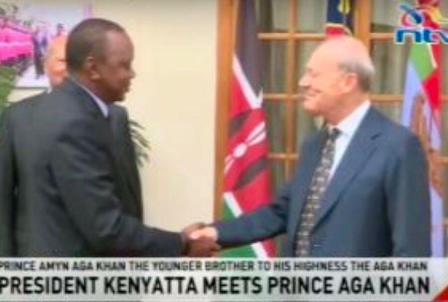 2017-11-28: Swearing Ceremony of President Uhuru Kenyata: Among the dignitaries was Prince Amyn Aga Khan, who represented His Highness the Aga Khan. Prince Amyn is His Highness the Aga Khan's personal representative to Kenya and is also in the country for meetings of the Tourism Promotion Services, which operates the Serena Group of hotels, lodges and resorts.

2017-11-24 Friday - Prince Rahim Aga Khan was in attendance at the event celebrating 40 years anniversary of the Institute of Ismaili studies. More here!]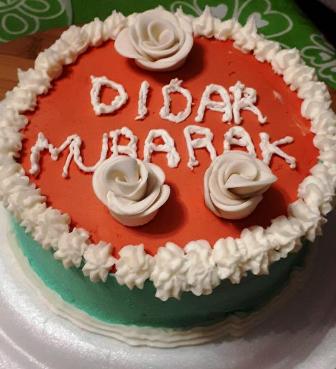 2017, November 17-21 Toronto Didars and Montreal Didar. - H.H. The Aga Khan, Imam-e-Zaman of Ismailis meet his Community in Eastern Canada and completed religious works again 25 years after a similar 1992 visit to Canada. He will leave Montreal on 22nd November 2017. The longer Canada wide official visit for Diamond Jubilee will happen in 2018. [More place, event, dates, updates Here!]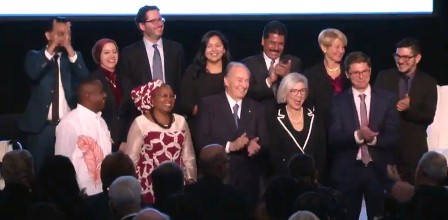 2017, November 15: Ceremony for the Global Centre for Pluralism Award receipients - Kenya's Alice Nderitu was distinguished by former Canadian Prime Minister Joe Clark as "peacemaker, conflict mediator and gender equality advocate per excellence". Here are the news, links and photos of the receipients of the award. [More]

2017-11-14 - Ottawa, Canada - H.H. The AgaKhan arrived this afternoon in Ottawa to attend tomorrow's Award ceremony at Center for Pluralism and to complete other AKDN works. The Imam of the Ismailis will also meet his community in Toronto from 17th to 20 November and in Montreal on 21st November. [Follow here!]

2017, November 6: The inaugural meeting of the University of Central Asia's (UCA) Board of Trustees was held on 6 November 2017 in Gouvieux, France. His Highness the Aga Khan, Chancellor of UCA, welcomed the Founding Trustees and urged them "to make research one of the highest priorities of the University. Only through the creation of new knowledge will we be able to address the multiple challenges that affect the quality of life of mountain societies. Over time, it is high quality and relevant research which will earn UCA a place among the renowned universities of the world." He added that the stewardship of UCA was now in the hands of the Board of Trustees. Among the items discussed at the meeting were current programmes and future initiatives of the University. [More News and Photo]

2017, November 1st: New York, USA - H.H. The Aga khan receives the Asia Game changer Lifetime Achievement Awards. His brother Prince Amyn attended the event and was as happy as was Mowlana Hazar Imam. The two brothers have been so close that they have been compared often to two historical brothers: Lord Rama and his brother Lakshman [More news, photos and videos]

2017, October 20 Toronto, Canada - Marigold Gala Fundraising Campaign for SOS Children Villages with Princess Salimah Aga Khan, mother of Prince Rahim, Princess Zahra and Prince Hussain. [More]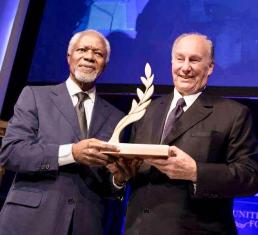 2017, October 18 - H.H. The Aga Khan received the 2017 Global Leadership Award from United Nations Foundation on 18 October 2017. The Award recognizes the highest levels of the diplomatic, business, government, philanthropic, media, entertainment, and social sectors - [More news, pics and video]

2017, October 12 Dar es Salaam Diamond Jubilee Darbar subsequent to Kampala Darbar. October 12 is also the Birthday of Prince Rahim. The whole Tanzania and INternational Jamat present in Dar es Salaam for the grand Diamond Jubilee Darbar, went to the airport on 11 October 2017 to welcome the arrival of H.H. The Aga Khan. Mowlana Hazar Imam gave Didar inside the Diamond Jubilee Hall to the some of the Jamat and in the street to the others.[More]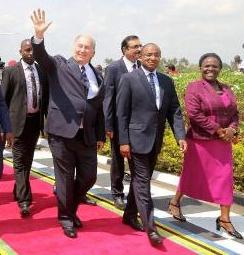 2017, October 11: H.H. Karim Aga Khan arriving in Dar es Salaam, Tanzania. Mowlana Hazar Imam is visiting Tanzania to celebrate his Diamond Jubilee. Murids from the International Jamat have joined, many whose family has had have deep roots in Tanzania for a Century, many also who were born there but moved to other parts of the world.

2017, October 11: Dar es Salaam, Tanzania - H.H. The Aga Khan was welcomed by thousands of people at the airport. He was received by Minister for Defense Hon.Hussein Mwinyi , RC Dsm region Paul Makonda, Kwimba MP Hon. Shaneef Hirani & Spouse Shagufa Mama, Hon Shamim khan, Resident Representative of AKDN Tanzania Amin Kurji and President of Agakhan National Council for Tanzania Amin Lakhani. [More]

2017, October 10: Mowlana Hazar Imam meet his Jamat in Kampala, Uganda for Darbar at 4pm. On his way to the Darbar Hall, He opened the window of his car and waved and blessed the International Jamat standing in the road. [More]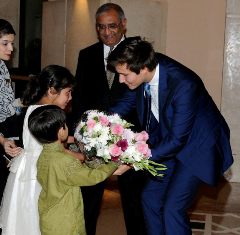 2017, October 10: Pamir Times - Gilgit: Prince Aly Muhammad, the youngest son of Prince Karim Aga Khan, the hereditary Imam of the Shia Imami Ismaili Muslims, has reached Gilgit-Baltistan region of Pakistan on Tuesday morning. During his stay in the Gilgit-Baltistan region, Prince Aly Muhammad, is expected to visit various AKDN projects in the Ghizer and Hunza districts. Today, Prince Aly Muhammad visited a health center operated by the Aga Khan Health Service, and a school run by the Aga Khan Education Service in Yasin Valley of District Ghizer. According to an official release, the visit will enhance the young prince's 'understanding of issues related to the built environment, natural hazard mitigation, health, education, culture, and rural development—all areas in which the AKDN with its partners are actively engaged to improve the quality of life. [More]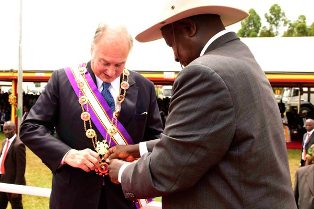 2017, October 9: - President Museveni decorated H.H. The Aga Khan at Uganda's 55th Independence Anniversary. H.H. The Aga Khan to receive in Uganda the Order of the Pearl of Africa Medal. The 'Most Excellent Order of Pearl of Africa, Grandmaster' was awarded in recognition of H.H. The Aga Khans' work & contribution to Uganda's development. The occasion's special guest, His Highness the Aga Khan, thanked President Museveni for his invitation and award. "I am honored to celebrate the occasion of the 55th independence anniversary with you. It was inspiring to watch the National Guard marching. Although my community is small in East Africa, it is my hope that they will participate in improving the lives of Ugandans in all works of life," he said. [News, Photos and links] [Full coverage Video]

2017, October 8th - H.H. The Aga Khan welcomed in Kampala, Uganda by President Yoweri Kaguta Museveni. [Video]

2017. October 8: Chitral News reports that "Aga Khan demands urgent action to restore man-nature balance" - The Interview of Princess Zahra is in Italian. [Interview] [More]

2017, October 7: Prince Amyn Aga Khan, brother of H.H. The Aga Khan, Imam of the Ismailis, attended the wedding of Prince Philip of Serbia with Danica Marinkovic [Photo]


2017, September 30 - Chantilly, Paris, France - H.H. The Aga Khan interviewed after the win by Vazirabad at Chantilly in the Prix de L'Arc de Triomphe - Hazar Imam attends the 2017 Qatar Prix de L'Arc de Triomphe at Chantilly Hippodrome. Click for more photos

2017, September 28th and 29th: Prince Amyn Aga Khan arrived in Toronto this Wednesday 27th October 2017 and is expected to attend the celebration for the 3 years anniversary of the opening of the Aga Khan Museum in Toronto. So far he has made 2 speeches, one at the breakfast on 28th September morning and the second at Gala Diner the same day.

2017, October - According to Chitral Today, H.H. The Aga Khan is expected to visit Chitral in Pakistan early next month.More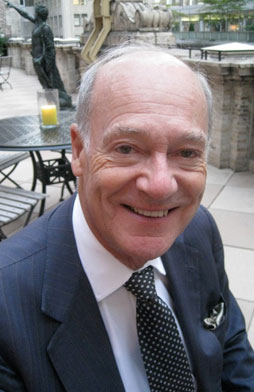 2017, September 10, Chantilly, France - Friends of the Domaine de Chantilly (FODC) hosted a memorable day at Chantilly, one of the most magnificent French heritage sites, located just 25 miles north of Paris. Prince Amyn Aga Khan, Chairman of FODC, welcomed guests upon their arrival and spoke at length about Chantilly's rich history, unrivaled art collection, and beautiful gardens before leading everyone into the castle. Among those in attendance were FODC Directors and advisors Nathalie Brunel, Betty Eveillard, Maryvonne Pinault, and Ann Nitze, as well as more than 60 of the most prominent art collectors, garden lovers, and Francophiles from both sides of the Atlantic. [More photos and news here!]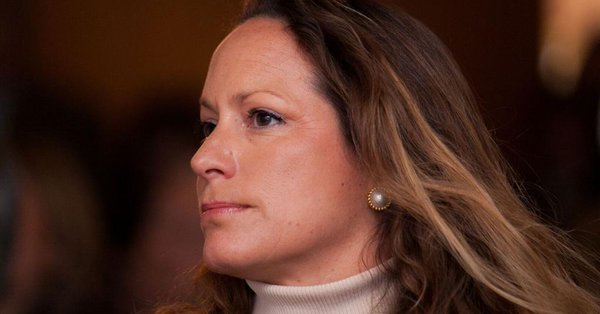 2017, August 7, New Interview of Princess Zahra Aga Khan. "Many members are aware of the planet's change. There is a clear change: yesterday in Cagliari there were 51 degrees and in Dubai last week were 55. We all know that we are facing a process of continuous degradation. Maybe we can do something." [Read interview here!]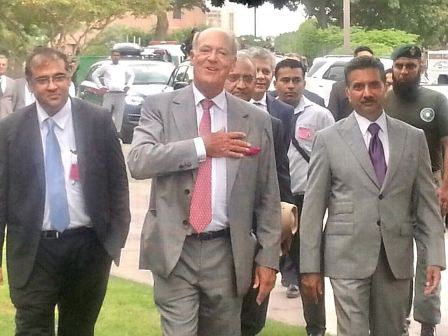 2017, July 31 - Prince Amyn Aga Khan at the AKU in Karachi, Pakistan.[More photos here!] [Video]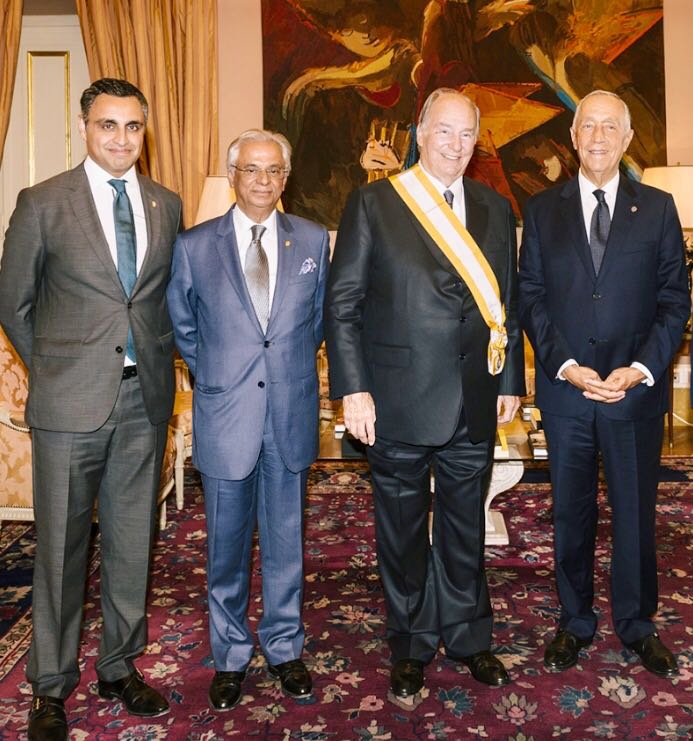 2017, July 20: Universidade NOVA de Lisboa honoured His Highness Prince Aga Khan with the Honoris Causa Doctorate. The event was held on 20 July in Lisbon time at the Rectorate of NOVA and was attended by the President of the Portuguese Republic who co-chaired the ceremony. Later that day, The Aga Khan received one of Portugal's highest honours – the Grand cruz da ordem de Liberdade, or Grand Cross of the Order of Liberty – in recognition of his service to uplifting lives around the world. Portugal's President Marcelo Rebelo de Sousa bestowed the Aga Khan, Imam of Ismailis, with this honour during a ceremony held at Lisbon's Belem Palace.[More]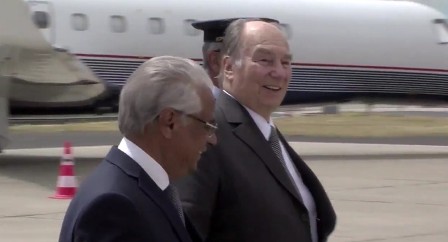 2017, July 19: H.H. The Aga Khan has arrived in Portugal this Wednesday 19 July 2017. At the airport, he was welcomed by a Guard of Honour. On Thursday 2pm Lisbon time (9am Toronto time), he will receive an Honorary Doctorate from Universidade NOVA de Lisboa. [More]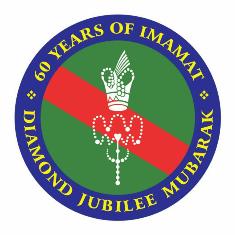 2017, July 11: Ismailis to celebrate 60 years of the Aga Khan's leadership in July - Prince Karim the Aga Khan IV inherited many important things from his grandfather, Sir Sultan Muhammad Shah the Aga Khan III, including longevity and the title of Imam or the spiritual head of the 15 million strong worldwide community of Shia Imami Ismaili Muslims. As a direct descendent of the Prophet Muhammad, Aga Khan IV is the 49th hereditary leader of the Ismaili Muslims, a branch of Shia Islam. Today, there are officially about 15 million Ismailis who are spread around the world. He is treated like a head of state with direct access to presidents and prime ministers. But he holds onto a tradition of political neutrality. Prince Karim was born in Geneva in 1936 and brought up in Kenya before attending boarding school in Switzerland and Harvard University. In 1957, during his undergraduate studies he became the Aga Khan. Suddenly he was thrust onto the world stage at the age of 20. Since then he has crossed the globe many times over. Though he carries a British passport and is based north of Paris, he is truly a global citizen. Read here all the articles in newspapers in preparation for the Diamond Jubilee [Many more news articles - Click here!]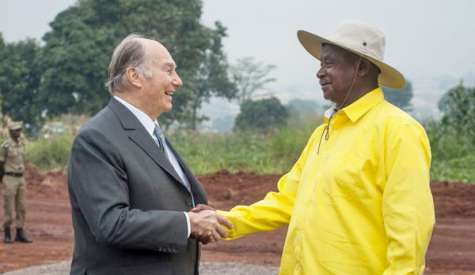 June 15, 2017 - H.H. The Aga Khan is to be awarded the Honorary Citizenship of Kampala Award in recognition of the role of his foundation to the development of Uganda's capital city. The Award will be received by the Aga Khan Foundation during celebrations to mark the 60 anniversary of Prince Karim Agha Khan's ascension to the Ismaili Imamat throne. The foundation's engagement in Uganda spans more than 70 years. The foundations portfolio includes investments in businesses, education, media, health, hotels and power generation. "His Highness the Agha Khan has done a lot of things for Uganda but also Kampala. Am sure you are aware that there's actually the construction of the Aga Khan hospital and training centre here in Kampala. The things that Aga Khan is doing depict him as having made huge community contributions", Kauju added. Industrial Promotion Services (IPS), the infrastructure and industrial development arm of the Aga Khan Fund for Economic Development owns the 250MW Bujagali Hydro power plant constructed at a cost of nearly $900 million. The foundation is also building a $100 million hospital in Nakawa division, Kampala. [More]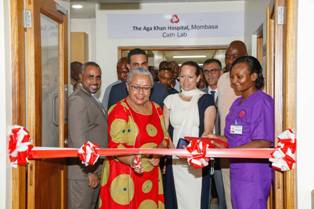 2017, June 9 - Mombasa, Kenya - First Lady: Latest heart complication technology to save thousands - State of the Art Cath Lab. The latest technology on cardiac complications is now locally available and Kenyans with heart problems can seek intervention without the need to travel abroad. Princess Zahra said the presence of the First Lady at the ceremony demonstrated the strong and important partnership between the Government and the AKDN. She said besides training of health professionals, the Aga Khan Health Services provided health care to over 1 million Kenyans last year. Princess Zahra said the Cardiology Program is an important step by the Aga Khan Health Services and a similar program is planned for Kisumu City. She however underlined the need for sustainability, capacity building and continued partnership with the government for the program to successfully continue saving lives. [MORE Photos and news]

2017, June 8 - Dar es Salaam, Tanzania - Princess Zahra Aga Khan and Dr. Dorothy Gwajima, Acting Director of Curative Services at the Ministry of Health, Community Development, Gender, Elderly and Children today jointly opened a new state-of-the-art laboratory and a low cost inpatient unit at the Aga Khan Hospital in Dar es Salaam. [More]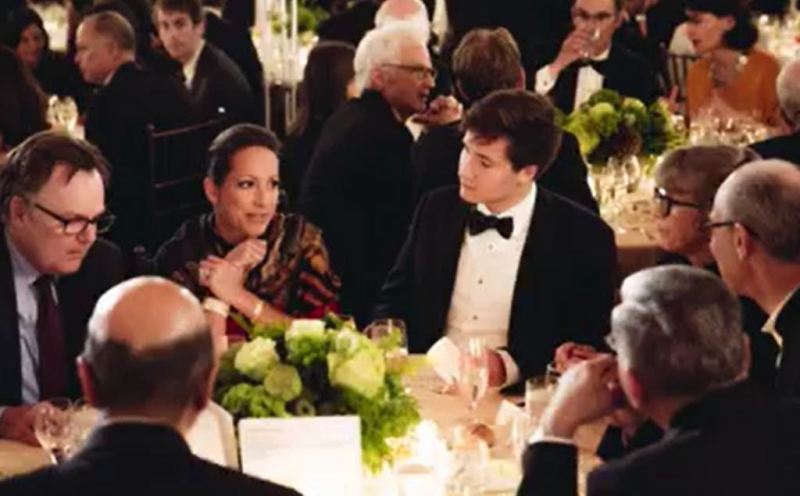 2017, May 2017 H.H. The Aga Khan receives President's Medal from Architectural League of New York. The Architectural League is recognizing His Highness the Aga Khan on the occasion of the fortieth anniversary of the Aga Khan Award in Architecture, which celebrates achievements in architecture and urbanism that serve an Islamic population anywhere in the world; spotlights issues of sustainability, quality of life, local craft and building traditions; and helps to preserve and develop public spaces, buildings, and landscapes of great cultural and civic importance. A commitment to pluralism suffuses the work of the Aga Khan Award for Architecture, along with other programs of the Aga Khan Trust for Culture and Aga Khan Development Network, of which it is a part. "Pluralism," the Aga Khan has said, "results when people decide to value and understand human differences through mutual respect and civic inclusion." He has written that "In the troubled times in which we live, it is important to remember, and honor, a vision of a pluralistic society. Tolerance, openness and understanding towards other peoples' cultures, social structures, values and faiths are now essential to the very survival of an interdependent world. Pluralism is no longer simply an asset or a prerequisite for progress and development, it is vital to our existence." [More news and photos]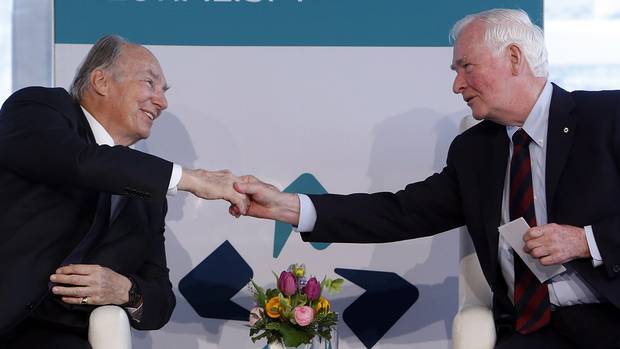 2017, May 16: H.H. The Aga Khan attended at 10:30am on 16th May the opening of the new HQ of the Global Center of Pluralism. "Let me emphasize a point about the concept of pluralism that is sometimes misunderstood. Connection does not necessarily mean agreement. It does not mean that we want to eliminate our differences or erase our distinctions. Far from it. What it does mean is that we connect with one another in order to learn from one another, and to build our future together. Pluralism does not mean the elimination of difference, but the embrace of difference. Genuine pluralism understands that diversity does not weaken a society, it strengthens it. In an ever-shrinking, ever more diverse world, a genuine sense of pluralism is the indispensable foundation for human peace and progress. From the start, this has been a vision that the Ismaili Imamat and the Government of Canada have deeply shared." [More News and Photos] [Speech]

2017, May 16: H.H. The Aga Khan will attend at 10:30am on 16th May the opening of the new HQ of the Global Center of Pluralism..[News and pics]

2017, May 11 Prince Amyn Aga Khan Speech at this 11 May 2017 at Traces of Words: Art and Calligraphy from Asia exhibition at The UBC Museum of Anthropology in Vancouver, has been recorded and will be posted online in the comming days[More]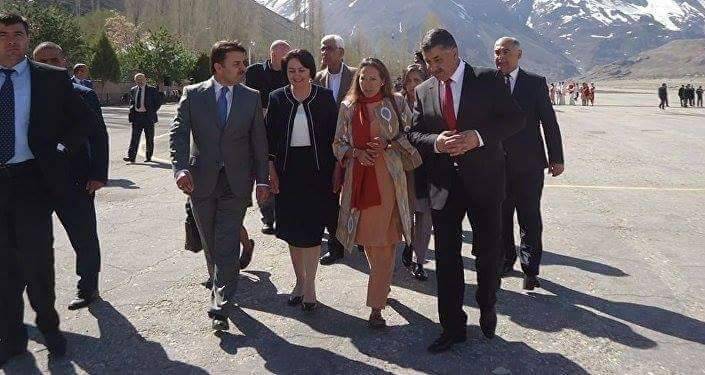 2017, April 25: Princess Zahra Aga Khan was met at the Khorog airport by GBAO governor Shodikhon Jamshed, senior representatives of the Khorog mayor's office and other regional administrators. While in Gorno Badakhshan, Princess Zahra Aga Khan has reportedly visited a number of programs and projects of the Aga Khan Development Network (AKDN) in the region. Yesterday, she, in particular, visited the Langar area in the Ishakshim district. Today, Princess Zahra Aga Khan is visiting the Gudara area in the Rushan district and the Khidorjev area in the Roshtqala district. She is also scheduled to meet the GBAO regional administrators and representatives of the AKDN programs in the region. Recall, Princess Zahra Aga Khan arrived in Dushanbe Monday evening for a three-day working visit. [Click for More]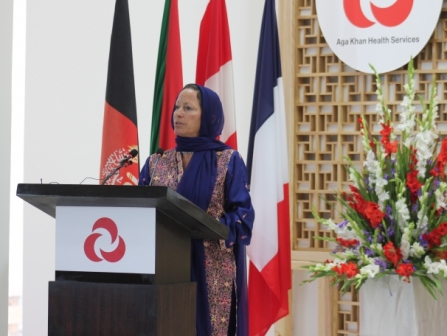 2017, April 24: Kabul, Afghanistan - Princess Zahra Aga Khan met with President Mohammad Ashraf Ghani today and reaffirmed continued support to the AKDN in Afghanistan. She made a Speech at the opening of the 141 Beds Hospital in Bamyan. The construction of the new facility was funded by the Government of Canada (US $17 million), the Aga Khan Foundation Canada (US $3.2 million) and the Government of France (US $2.3 million). The hospital's operations continue to be principally funded by the Aga Khan Health Services; since 2004, this funding has amounted to over US $15 million. "I know that all of you share Canada's deep belief that access to quality health care for all the citizens of this vast country of Afghanistan is one of the most important building blocks for a better future," said Canadian Ambassador His Excellency Kenneth Neufeld. "We can see here in front of us a model of quality sustainable health care which can reach offer first-class health solutions to remote areas and under-served segments of the population. I know too that you share Canada's deep commitment to ensuring that the rights of women and children to equal access to health care are achieved. " [Click for More Photos, News and Speech]


2017, April 19: H.H. The Aga Khan arrived in Russia at 19:30 for 2 days. He met with Foreign Minister Sergey Lavrov in Moscow to discuss with AKDN related projects in Syria, Afghanistan and Central Asia. [More news and Video here!]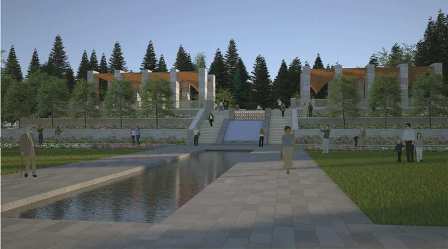 2017, April 8: Edmonton, Canada - North America's largest Islamic-inspired garden is to be built in Alberta, a $25-million gift from the Aga Khan that is expected to attract up to 160,000 visitors a year. read more - click here!

2017, February 20: The Aga Khan foundation has trained over 1,000 headteachers of nursery and primary schools from Lindi and Mtwara regions through its project that seeks to improve education in the East Africa Regions (AKU-IED, EA). More

2017, January 15: Aga Khan Hospital in Mombasa - Signing of an agreement between Aga Khan Health Services Kenya and Agence Française de Développement (AFD) on Friday to expand and upgrade Kisumu and Mombasa Aga Khan Hospitals. Under the agreement, Kisumu Aga Khan Hospital will over the next five years expand to a 90-bed facility from the current 61 beds. More here

2017, January 2 - Birth of Prince Sinan, the second child of Princess Salwa and Prince Rahim Aga Khan. Send your Congratulations HERE!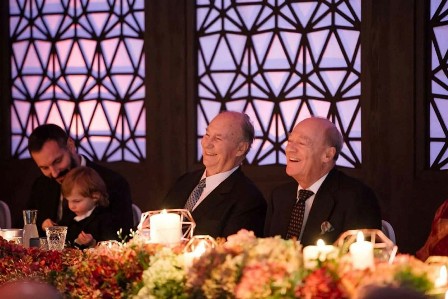 2016, December 13 H.H. The Aga Khan celebrates his 80th birthday with his family. On 16 December 2016, another grand party was help in Paris by the LIF on behalf of the whole community. The Imam came with Prince Amyn Aga KHan, Prince Rahim, Princess Salwa and Prince Irfan, Princess Zahra and her daughter Princess Sara, Prince Hussein as well as Prince Aly Muhammad. [More text and video]

2016, December 7: ISLAMABAD (APP): Senator Mohammad Ishaq Dar, Minister for Finance met His Highness Prince Karim Aga Khan on the sidelines of the 75th Anniversary celebrations of the French agency for Development in Paris Wednesday.[More]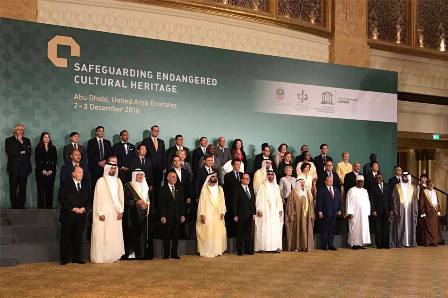 2 Dec 2016 - H.H. The Aga Khan at the 45th UAE National Day Anniversary Abu Dhabi - Safeguarding Endangered Cultural Heritage. Click for more!

2016, November 11: Amb.Liberat Mfumukeko, Secretary General of the East African Community and Ex-Oficio Member of Parliament met H.H. The Aga Khan who agreed to upgrade Dar hospital to 600 beds and extend AKDN Hospitals & Universities to all countries across the region. The Secretary General of the EAC was in Brussels for a funding meeting at the EU Commission. [More]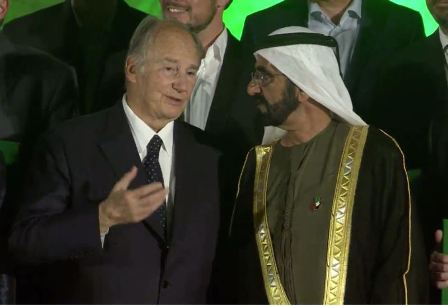 2016, November 5 and 6: Dubai and Al-Ain - The Aga Khan Award for Architecture, Winners' seminar held November 5th, 2016 followed the next day by the Award ceremony. [News and Photos] [Video and Text of Speech]

2016, November 2016 - Dubai, UAE - H.H. The Aga Khan arrived in Dubai this Friday afternoon accompanied by his brother Prince Amyn and his son Prince Aly Muhammad Aga Khan to attend the Aga Khan Award for Architecture Ceremony November 5-6th, 2016. [More News and Photos]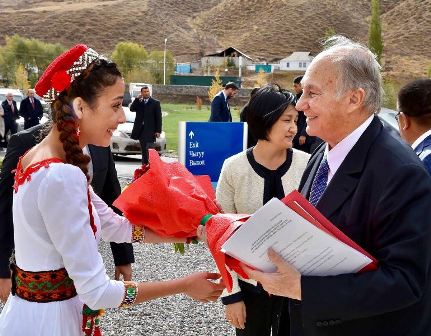 2016-10-19: Naryn, Kyrgyzstan - Opening Ceremony of the Naryn Campus of the University of Central Asia. The University of Central Asia has attracted the support of 77 institutions in the region. H.H. The Aga Khan said that a thousand years ago, Central Asia led the world in cultural and intellectual achievement. He quoted the invention of Algebra and the first discovery of the diameter of the earth. Prince Rahim, Princess Zahra, Prince Aly Muhammad attended the event. The University of Central Asia (UCA), created to be a catalyst for social and economic development in the region's mountain societies, on 19 October officially opened its first campus in Naryn, Kyrgyzstan. The new buildings on the Naryn Campus represent the first phase of a larger plan for the 252-hectare site, which was a gift from the Kyrgyz Government. Phase I includes 14,000 square meters of space that can accommodate 150 students. It features state of the art classrooms, a library and laboratories; secure, modular student dormitories; faculty and staff residences; and athletic facilities of an international standard. When the final phase is complete, the campus will accommodate 1,200 students and span 125,000 square meters, the UCA said. lMore photos and news]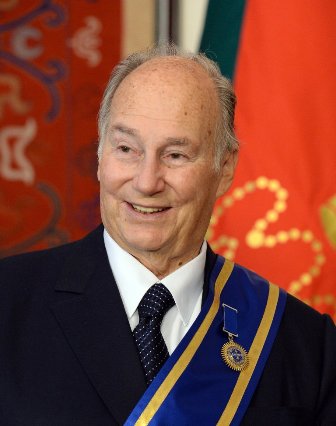 2016 , October 18 - Bishkek, Kyrgyz Republic - H.H. The Aga Khan, Mowlana Hazar Imam received today The Order of Danaker which is awarded to individuals for outstanding contribution to the strengthening of peace, friendship and cooperation between nations, for a particularly fruitful activity in the inter-ethnic harmony, achievements in science, rapprochement and mutual enrichment of national cultures. [click here for more]

2016, October 18: Osh, Kyrgyzstan - The Aga Khan School – the first private school in Osh - today celebrated its 10th Anniversary in the presence of Princess Zahra Aga Khan. 'The ability to make judgments that are grounded in solid information, and employ careful analysis should be one of the most important goals for any educational endeavour. As students develop this capacity, they can begin to grapple with the most important and difficult step: to learn to place such judgments in an ethical framework. Therein lies the formation of the kind of social consciousness that our world so desperately needs.' said Princess Zahra. [More]

2016, October 17: Prince Aly Muhammad Aga Khan and Mowlana Hazar Imam at Bishkek airport today. AKDN Resident Representative for Kyrgyzstan Shamsh Kassim-Lakha, who is also the Executive Chairman of the UCA Board Executive Committee, welcomes Mawlana Hazar Imam. [ More news, click here]

2016, October 7th - H.H. The Aga Khan has informed his community of his joy of Princess Salwa and his son Prince Rahim expecting their second child early into the new year. The Ismaili Community is celebrating the news. For more photos, [click here]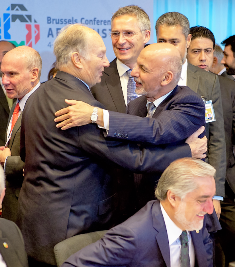 2016 October 4th and 5th - Brussels, Belgium - H.H. The Aga Khan attended the Brussels Conference on Afghanistan. (L-R) US Secretary of State John Kerry, UN Secretary-General Ban Ki-Moon, Prince Shah Karim Al Husseini Aga Khan IV and NATO Secretary General Jens Stoltenberg chat prior to the Brussels conference on Afghanistan in Belgium, 05 October 2016. The conference, which is hosted by the EU, will bring together representatives of over 70 countries to discuss the situation in Afghanistan. Although the AKDN's work there began in 1996 with the distribution of food aid during the civil war, its contribution towards rebuilding the country has grown massively in scope and impact. It now has economic projects in over 240 cities and towns spread throughout the 34 provinces. Its social development and humanitarian work has touched over 3 million people. It has also restored over 90 historic sites, revitalising the nation's cultural heritage while upgrading local infrastructure and training local journeymen. Among the attendees at the Brussels conference were the President of Afghanistan, Dr Ashraf Ghani and Chief Executive Dr Abdullah Abdullah, United Nations Secretary-General Ban Ki-moon, NATO Secretary General Jens Stoltenberg, and United States Secretary of State John Kerry. On the sidelines of the conference, the Aga Khan Trust for Culture and the Afghan Ministry of Urban Development signed an agreement that will facilitate the conservation and restoration of key historic areas in Kabul. The memorandum of understanding furthers AKDN's commitment to preserving Afghanistan's built heritage and developing sustainable models of urban planning, upgrading and conservation. [More photos, news, speech, video here!]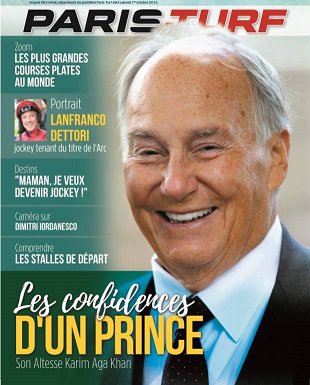 2016, October - Paris, France - His Higness The Aga Khan attended the two days racing event of the Prix de l'Arc de Triomphe with Prince Amyn, Prince Aly Muhammad, Princess Zahra, her daughter and Princess Salwa, the wife of Prince Rahim. Expectations were high. One could read in blogspot "When Harzand came roaring down the Epsom track in the Derby back in June, he ended a 16 year long wait for the Aga Khan to recapture this esteemed prize. Nothing ever appears to be straightforward with this dual Derby winner, his participation only hours before the Derby was thrown up into the air due to a foot injury but this brave battle hardened colt was patched up and the rest, as they say, is history. He then duly went on to win the Irish Derby, again battling to victory, but lost his unbeaten run when he finished down the field in the Irish Champion Stakes last month, although one can excuse that run as he was struck into, which resulted in injury and that led to another 'will he or won't he' scenario. We know now, Harzand will definitely run at Chantilly on Sunday and any concerns or issues anyone has about the ground, fitness or the draw can be stored safely away as everything appears to be in order, even the heavens have opened up at Chantilly as I write, which will be music to Harzand's ears! ">More photos, news and videos here.]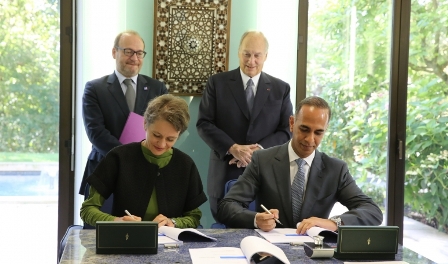 2016, September 27: The French Development Agency and AKDN engage in a US$58 million partnership to provide equitable access to an international standard of education in Mozambique. The student body of more than 750 girls and boys from kindergarten to grade 12 will benefit from facilities that will include classrooms, science laboratories, libraries, lecture and work-study rooms for teacher professional development, administration offices, students' residences, dining and kitchen facilities, an amphitheatre, and sport and arts facilities. The campus will also be equipped with advanced IT infrastructure. Mhamud Charania, Chairman of the Aga Khan Education Services, Mozambique, signed the agreement on behalf of the AKDN. "AFD's participation in this project confirms our belief in the value of investing significant resources in educating students with exceptional intellectual ability to the highest levels of achievement," said Salim Bhatia, Director of Academies. "It is our intention to offer a distinctive, relevant and internationally validated education where girls and boys develop a strong sense of civic duty and capability to contribute to the improvement of the quality of life of their societies," he added. The AFD, as France's main agency for development, has developed a fruitful relationship with the AKDN on a number of projects. The two organisations have worked together for almost 20 years. Proparco (an affiliate of AFD focussing on the private sector) has mainly financed economic development projects (especially in the infrastructure, tourism and banking sectors), and AFD has focussed on social development projects in the areas of health, education and financial inclusion. [More]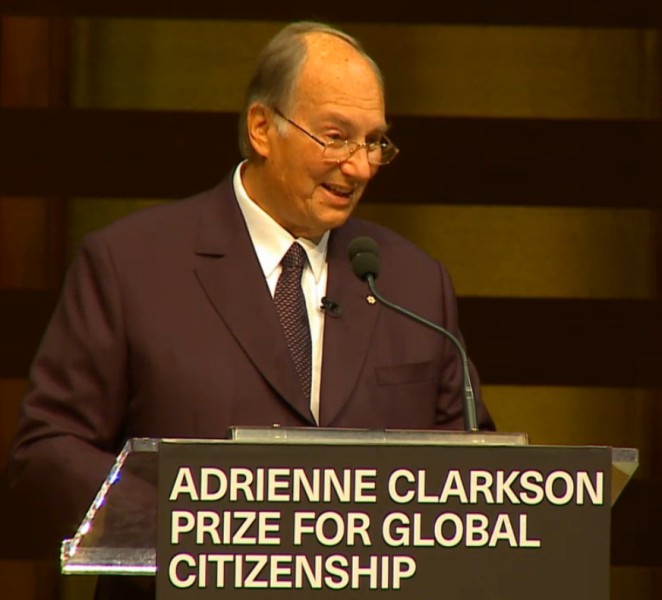 2016, September 21: H.H. The Aga Khan has received The Adrienne Clarkson Prize for Global Citizenship at a ceremony held in Toronto. In his speech, H.H. The Aga Khan said "Pretending that our differences are trivial will not persuade most people to embrace pluralistic attitudes. In fact, it might frighten them away. People know that differences can be challenging, that disagreements are inevitable, that our fellow-humans can sometimes be disagreeable. As Madame Clarkson has famously said, and I am quoting her here: "the secret to social harmony is learning to live with people you may not particularly like." My fear is that talking only about our common humanity might seem to threaten people's distinctive identities. And that can complicate the challenge of pluralism. Who am I? Qui suis-je? We all must pose that question. Answers will grow out of basic loyalties - to family, faith, community, language, which provide a healthy sense of security and worth. But if the call for pluralism seems to dilute those old loyalties, then that new call may not be effective. Embracing the values of Global Citizenship should not mean compromising the bonds of local or national citizenship. The call of pluralism should ask us to respect our differences, but not to ignore them, to integrate diversity, not to depreciate diversity. " [More news and photos here!] [Speech] [Video of the whole event]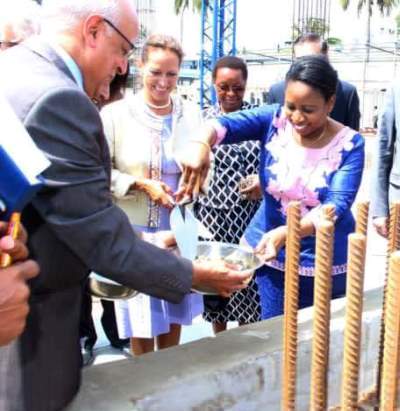 24 August 2016 - Dar es Salaam, Tanzania. Princess Zahra attended the ceremony for the expansion of the Aga Khan Hospital. Princess Zahra Aga Khan, said her institution came up with the idea of expanding the hospital in Dar es Salaam following the increase of cases of non-communicable diseases. - [Click here for more photos and news!]

2016, August 8: Dar es Salaam, Tanzania — The Aga Khan Hospital is implementing a Sh176 billion expansion project that will see the facility match the international status it attained last week from the Joint Commission International. The hospital will increase the number of beds from 74 to 170 and has set aside Sh3 billion for training young health professionals abroad. [News here]

2016, July 31: In Africa, there are nine such hospitals and Aga Khan Hospital is the first hospital in Tanzania to achieve JCI accreditation. Chief Medical Officer, Professor Muhammad Kambi, said it was a great achievement and urged the hospital to keep working hard in delivering health services as it would bring positive impact on the overall healthcare in the country. Prof Kambi also appreciated the offer made by the Aga Khan Hospital to work with the government on improving safety and quality standards across all hospitals countrywide. [here!]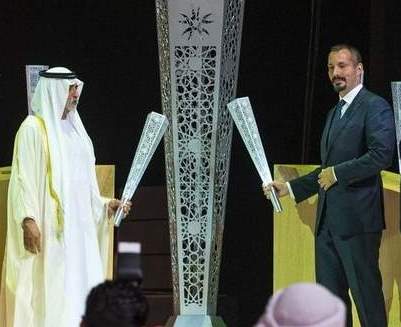 2016, July 23 - Dubai - 2 000 athletes, 2 400 volunteers and 11 000 spectators from around the world in Dubai for the 2016 Jubilee Games. Photos, several Videos including the one when he take the baby in his hands and others: [News from start to closing ceremony, photos and several videos- Click Here!]

2016, June 22 - Paris, France: Prince Karim Aga Khan and Member of 'Academie des Beaux-Arts', photographer Yann Arthus-Bertrand attend Dominique Perrault becomes a Member of the 'Academie des Beaux-Arts', Architecture Section : Official Ceremony - [More Photos and speech in French - Click!]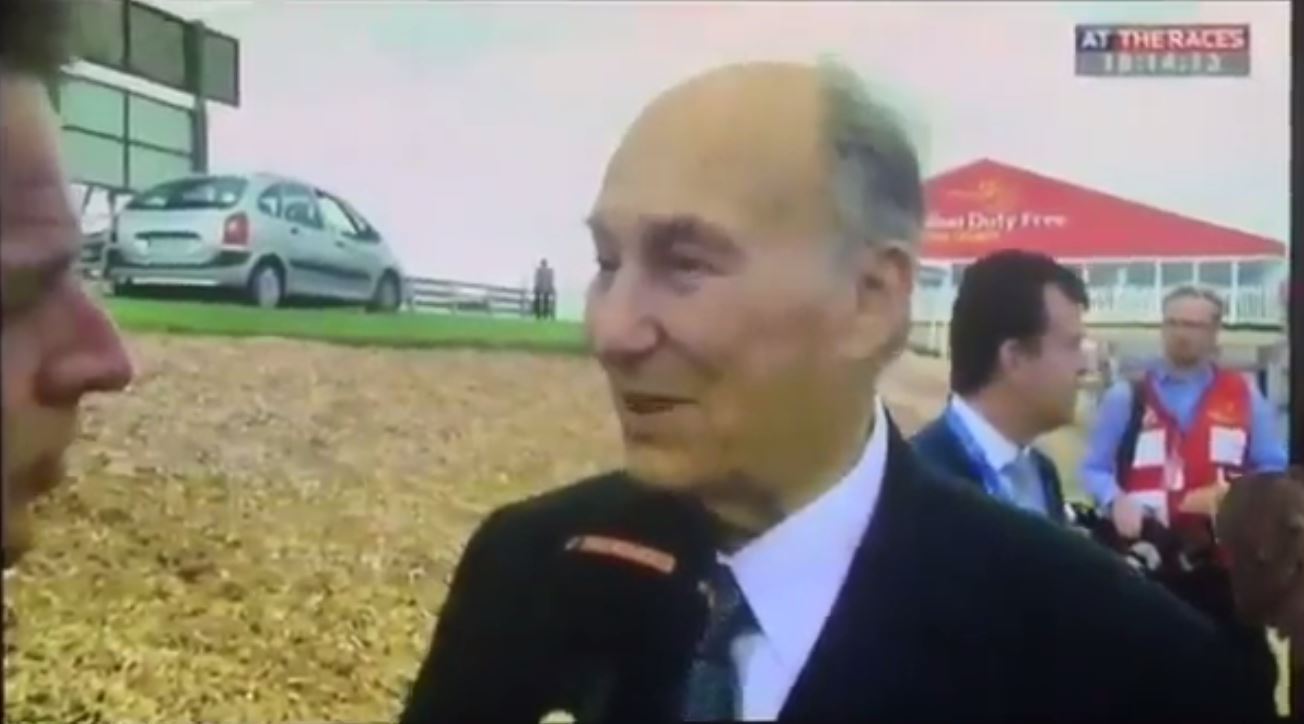 2016-06-25 His Highness The Aga Khan's horse Harzand wins the Irish Derby - "Now it's forwards and upwards and I will speak with his highness (owner, His Highness Aga Khan) but obviously the Arc de Triomphe will be his target." - Harzand is the fifth horse to win both the English and Irish Derbies for the Aga Khan after Shergar (1981), Shahrastani (1986), Kahyasi (1989) and Sinndar (2000). It was Weld's third win in the Irish Derby after previous triumphs for Zagreb in 1996 and Grey Swallow in 2004, and a second for Smullen after riding the latter. "I knew Aidan would have his horse better than at Epsom so I knew our horse had to be better than at Epsom to win again," said the Rosewell House handler. "He ran a magnificent race. He showed the speed that he has today. People were saying he didn't have speed, well you saw it today. "Those two horses really picked up and quickened. Idaho is a high-class horse, he's always been that and he was at his best today. It was a great day, a great ride - a special day. It was a proper horse race. "He'll have a good break now and we'll train him for the Arc." [click for more news] [Video of the Interview given by H.H. The Aga Khan after his horse Harzand wins the Irish Derby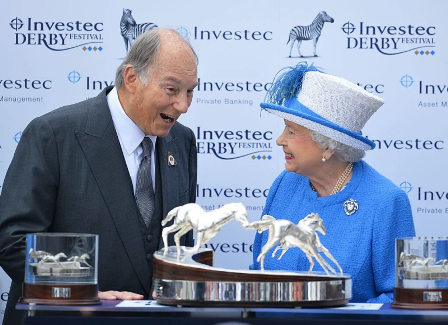 2016-06-04 - H.H. The Aga Khan maintains the family grip on one of the greatest prizes in racing, the Derby. (Photo: GETTY and Channel 4 Racing) Harzand finished ahead of the race favourite - But for the Aga Khan it extended a tradition started by his grandfather in 1930. Blenhem was the first of five Derby winners for the current Aga's predecessor and was followed by Bahram (1935), Mahmoud (1936), My Love (1948) and Tulyar in 1952. - ["Click for more]

2016, May 24 - Gilgit, Pakistan– In its push to provide health care in large underserved areas of Pakistan, and to complement the Government's efforts to attain the Sustainable Development Goals in health, an Aga Khan Medical Centre was inaugurated today by Princess Zahra Aga Khan and Prince Rahim Aga Khan. [More]

May 20, 2016 - Princess Zahra and others leave the ICT after a meeting with H.H. The Aga Khan - Tons of photos by our staff and others have been added with few interesting videos links on our IsmailiHeritage Channel on Youtube and in [Forum Section

2016, May 19: Toronto, Canada - Annual Pluralism Lecture 2016 - Justice Albie Sachs,formerly of the Constitutional Court of South Africa - "The Battle for the South African Constitution: Protecting Minorities through Power-Sharing or a Bill of Rights?" With introductory remarks by His Highness the Aga Khan and an audience dialogue moderated by David Walmsley, Editor-in-Chief of the Globe and Mail. Join the Centre on May 19, 2016 at 6:30 EST for the live stream presentation via the Globe and Mail. [More] [WEBCAST LIVE HERE at 7:30pm ET]]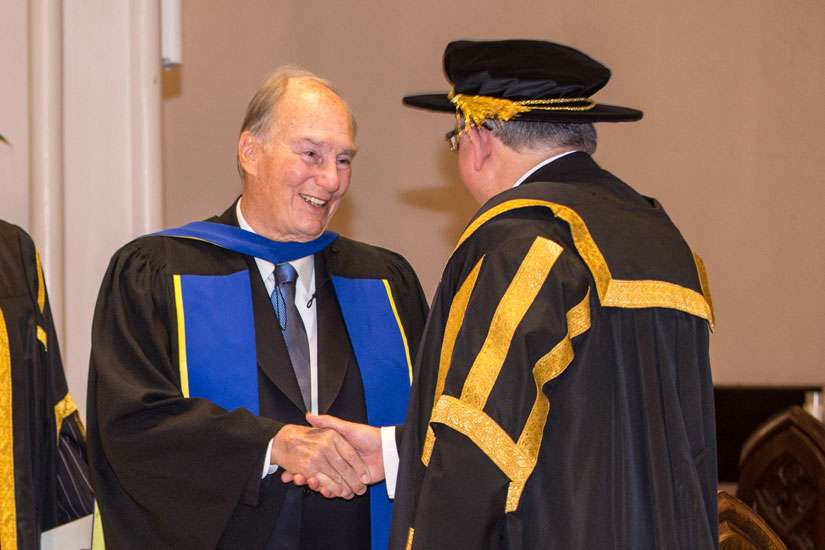 2016, May 20: Toronto, Canada - H.H. The Aga Khan received an Honorary Degree from the Pontifical Medieval Studies Institute at St. Michael's College in Toronto (81 Mary's Street).[ More]

2016, May 16: H.H. The Aga Khan and his brother Prince Amyn landed at 4:30pm and were welcomed by Ambassador Eboo and others. He looked very happy and waved at us, about 20 Ismailis, outside the airport. The Imam arrived at 5pm at Delegation of the Ismaili Imamat, Sussex Drive in Ottawa, Canada.

2016, May 17 - Tuesday 4:00 p.m. The Prime Minister Justin Trudeau met with his Highness the Aga Khan in the Office of the Prime Minister, Parliament Hill, Ottawa. About 40 Ismailis were in the crowd gathered at the entrance. There was an athmosphere of jubilation and the Imam waved when he came and he went back at the end of his meeting. He went directly to the airport and his plane arrived in Toronto around 7pm.

2016, May 11. Lisbon, Portugal - His highness has arrived in Portugal for a 2 days meetings and will meet with the President, Marcelo Rebelo de Sousa, the prime minister, António Costa, and with Augusto Santos Silva, the Minister of Foreign Affairs. He will be attending a dinner hosted on his behalf by the President, Marcelo Rebelo de Sousa in Cidadela de Cascais. [More photos and news]


2016, April 27 - Nairobi, Kenya - Princess Zahra Aga Khan attended the Kenya Countdown to 2015 Country Case Study Report: Understanding the Past to Impact the Future in Ending Preventable Maternal, Newborn and Child Deaths and met the First Lady H.E. Margaret Kenyatta at the Safari Park Hotel in Nairobi. [ Lots of photos and more - Click here!]

2016, April 25 - Daily Nation - Construction of the Aga Khan University campus in Arusha is set to take off soon, its officials have announced. The site covers 3,200 acres, of which the potential area for investment rests on 1,700 acres. [More]

2016, April 12, Kigali, Rwanda - Prince Amyn Aga Khan payed tribute to Genocide Survivors at Kigali Memorial [More & Photo]

2016, April 1: Dar es Salaam, Tanzania — The Aga Khan University (AKU) yesterday opened a new state-of-the art facility to groom nurses and midwives at degree level as part of the university's major plans to bridge the human resource gaps in Tanzania's health sector. The nursing school project, worth Sh2.95 billion, was officially launched yesterday in Dar es Salaam at a colourful event graced by the German Federal Minister for Economic Cooperation and Development, Dr Gerd Muller. [More]

2016, March 17: Nairobi, Kenya - The new printing press to be launched by H.H. The Aga Khan on Thursday 17th March will be streamed live on Nation TV and Q-TV at 9.40am local time. [More Photos, Video and Speech]

2016, March 16: Nairobi, Kenya - H.H. The Aga Khan arrived in Kenya yesterday evening for a visit during which he will inaugurate the Nation Media Group's new state-of-the-art printing press. This morning he attended a meeting with the Nation Media Group at the Serena. [More]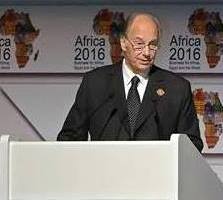 2016, February 21: Sharm el Shaikh, Egypt - H.H. The Aga Khan Keynote address Africa 2016 Summit on 21st February 2016 at 9.15am in Sharm el Sheikh. "What I see emerging today is a refreshingly, balanced confidence in Africa - a spirit that takes encouragement from past progress, while also seeking new answers to new challenges - understanding that the best way to move into the future is to walk hand-in-hand with partners who share one's goals. And we are all here to fulfil that role." [Photos and News] [SPEECH] [[Video]

2016, February 20:- Cairo, Egypt - President Abdel Fattah El Sisi met on Saturday with H.H. The Aga Khan in Sharm el Sheikh, Presidential Spokesman Alaa Youssef said. Sisi hailed the positive role played the AKDN which – he considered – as an example of non-governmental organizations contributing to development in the society and creating jobs. The president hailed the AKDN foundation's efforts in Egypt, especially in the childhood development projects. [News]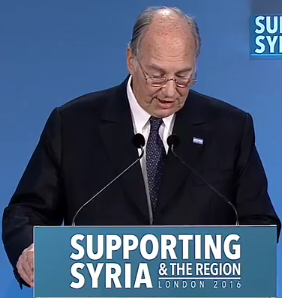 2016, February 4: His Highness The Agakhan making statement today at the Support Syria Conference. The Imam has announces that the AKDN will support Syrians by increasing investment to $200m over next 4 years. [More]


2016, January, 26 - Princess Zahra Aga Khan To Open Asian Racing Conference by Press Release | 11.26.2015 | 9:04am - Princess Zahra Aga Khan will give the opening address at the Opening Ceremony of the 36th Asian Racing Conference at the National Sports Club of India in Mumbai on Monday, Jan. 26, 2016. The address has special significance given that the history of her family's involvement in racing and breeding began in India in the 1800's with Aga Khan I. [More here]

2015, december 24: Prince Hussain Aga Khan arrived at Kirawira Lodge in Serengeti Park in Tanzania for a 5 days trip [Photos] [Video]



FOR NEWS RECENTLY ADDED TO THE NEW HERITAGE WEBSITE SEE BELOW. WE ARE STILL ADDING ALL OF THE NEWS FROM THE OLD HTML BASED WEBSITE TO THE NEW DRUPAL BASED WEBSITE.





Currently Online Users
Click on name to send private message
Did You Know?

Yaqub ibn Killis was the first to receive the title of Vizir by Imam al-Aziz., and the first one to appoint permanent teachers at al-Azhar. He also was a great daï, a renowned jurist, and the author of many books on Ismailism. At his death, Imam al-Aziz. personally conducted prayers at the funerals.
We have 105 guests and 0 members online

You are an anonymous user. You can register for free by clicking here